2000

-The millennium parties went off without the world ending from the Y2K bug. Life continued: In the first half of the new year, (or "millennium", depending on who you talk to) Bradley lost is father to leukemia, Christopher's wife filed for divorce and Tim fell in love. Months went by without Brad Christopher or Tim talking to each other. Things were strained and appeared to be over for The OBViOUS.

-However in the late night if you listened carefully enough you could faintly hear a familiar sound of The OBViOUS.

-Simultaneously to his demo-ing of new songs. mr christopher (somewhat begrudgingly) began to go though hours of OBViOUS rehearsal tapes... pulling out countless magical moments from 1998-1999 performances and rehearsals. He also undertook the mixing of the live tracks recorded the November before. The OBViOUS-ly LiVE Album was released in May 2000.

A listening party was arranged. mr christopher invited Brad and Tim. Tim responded first to the "OBViOUS-ly LiVE" CD listening party. Brad was out of town for the release. Tim and Christopher agreed to jam again in the near future.

Strangely, the "OBViOUS-ly LiVE" CD became the catalyst to bringing the band back together. It was therapeutic, especially the humorous rehearsal disc, in that we could see from the outside the chemistry that was so amazing between us. I remember both Tim and Brad both calling me on the phone and just laughing so hard. I think after a 6 month break we were starting to miss each other."- mr christopher

-Not wanting to jump too quickly into anything, mr christopher and Tim agree to work on a new arrangement of an obscure late 50's rock cover tune called "Some Other Guy" which the Beatles had once covered. After a successful collaboration on "Some Other Guy" , they worked on an instrumental called "Ducky" in 3 different styles. Only 2 versions of Ducky (the R&B and Jazz versions) have been released, both on "4OBViOUS rEASONS." ("Metal Duck" remains unreleased.)

When Brad finally returned, everyone met. Christopher expressed his desire to record with both of them again, but without any commitment to perform live.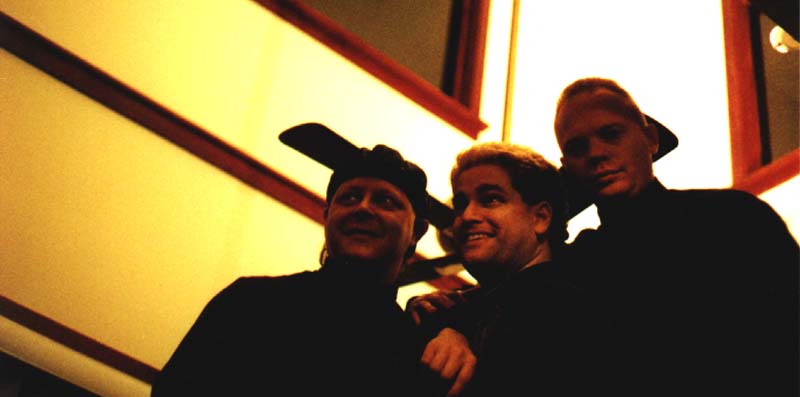 They agree their next album was their strongest recording to date, called 4OBViOUS rEASONS... for obvious reasons.