Cost: 20,000 yen. This fee covers a basic arrangement of one lesson, once a week, 4 times a month at 5000 yen/lesson hour.
Other arrangements are easily arranged upon request. (See Lesson Arrangement Detail below.)

Benefits: My private lessons are longer, less expensive than any eikaiwa lessons you may take. You get the benefit of a more experienced and educated teacher who understands Japanese culture. You learn in a convenient, comfortable natural atmosphere with food, dessert or drink of your choice. It's simply a more enjoyable lesson.

Curriculum: My conversation classes help you to build your vocabulary, correct your grammar, and improve natural English fluency. My lessons give you the confidence you need to communicate in social situations, when traveling abroad, and in the business world. Cultural tips are provided to help you overcome cultural misunderstands encountered in the real world.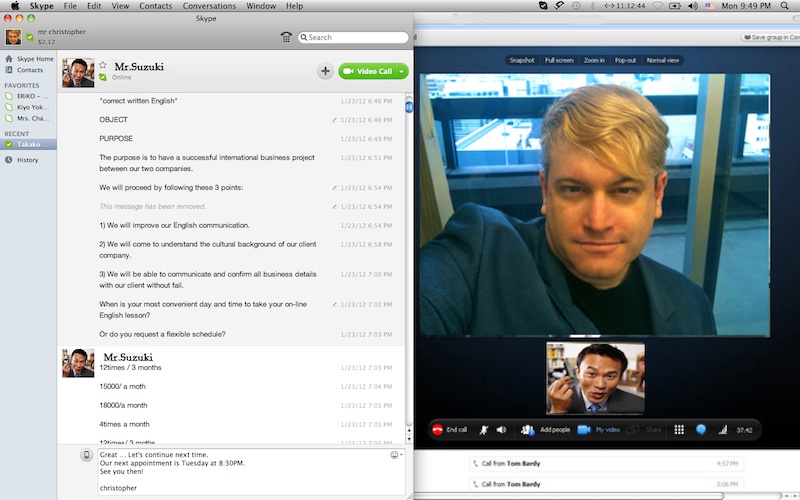 ABOUT YOUR LESSONS:
Just 1 minute from Shinjuku Station's gate, in a comfortable quiet spacious dining area... just you and I.
We can discuss everything from travel, culture, food, and the arts... whatever you want.
You can be assured that I am able to converse intelligently on a wide variety of topics.
Your one-hour lesson will be comfortable, very enjoyable, informative, fun, and most of all, whatever you hope it to be.
Let's relax, talk, eat cake, drink tea, and enjoy...!

LESSON ARRANGEMENT DETAIL:

* Meeting times are Monday through Thursday, with available times ranging from 10:30am to 4pm.

* Lessons are booked by the month. Each lesson is at least 1 hour in length, four times a month.

* One month's fee is paid in advance: Y20,000. A discount applies for extended months: Two months paid in advance Y38,000. Three months paid in advance is Y54,000.

* Lessons may be rescheduled 48 hours in advance without penalty.

* Christopher can be contacted by e-mail 7 days a week. Replies are always prompt.

* Easy Japanese "OK desu."

* There are limited bookings from February 2013, so e-mail soon.
ABOUT YOUR TEACHER:
Christopher is a world-travelled, North American with Italian and English roots. Christopher has been teaching in Asia for 10 years, 8 of which have been in Japan.
He has a degree in Communications and Music Production from the University of Central Florida and Middle Tennessee State University.
He comes from an artistic background and has worked in radio, publishing and recording. He is a producer and composer.
Christopher's non-regional accent has allowed him to work as a voice actor and narrator for several American, Chinese and Japanese companies. Students find him very easy to understand.
His teaching style is "conversational." Use of textbooks depends on the student's needs and wishes.
Atmosphere is an important factor when Christopher chooses places to meet students. As a resident of Shinjuku Gyoenmae, Christopher enjoys finding unique restaurants which are suitable for his students to enjoy the cuisine as well as a relaxed conversation.
"I look forward to meeting you!"
- christopher
E-mail: mrchristopher@the-obvious.com